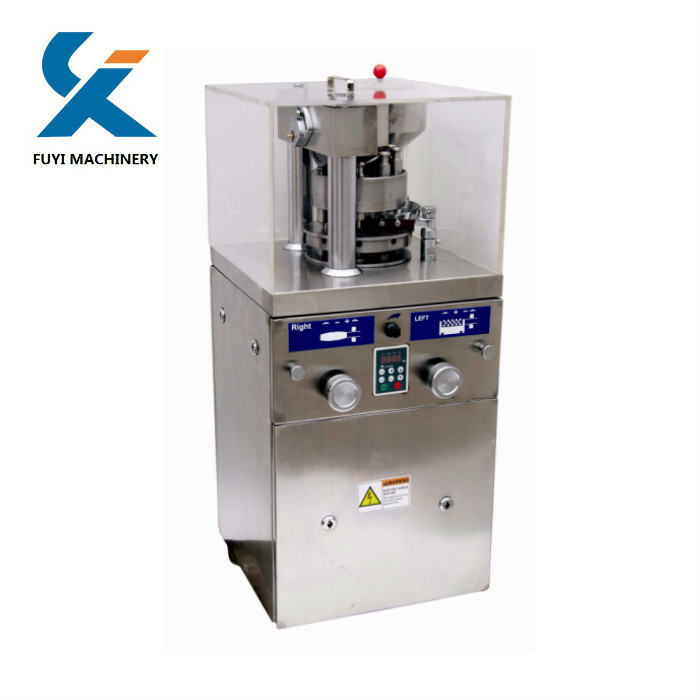 Details
Product introduction:
The machine is a singlepressing type machine with automatic rotation and continuous tablet pressing used to press granular raw materials into various tablets.
It is mainly used for tablet production in the pharmaceutical industry, and is also used in chemical industry, food,
electronics and other industries.
Characteristics:
1. Pressure is 40-60KN, strong stability, the fuselage is mainly made of stainless steel and aluminum alloy, making the fuselage more portable.
2. Humanized knurling screw operating table, more convenient to operate.
3. Stainless steel material, is in line with GMP production requirements.
4. Stainless steel shield can prevent raw materials from entering turntable and damage equipment.
5. Aluminum alloy sheet turbine box makes the fuselage lighter.
6. The magnetic sliding door is used on all sides of the turbine chamber of the motor, which is convenient for inspection and maintenance.
7. High quality aluminium alloy wheels, easy to move.
Technical parameters:
ZP-5/7/9A

Materials

Stainless steel

Pressure(kn)

40

Tablet diameter(mm)

4-12(special-shaped 14)

Tablet thickness (mm)

1-6 (adjustable)

Filling depth(mm)

1-15(adjustable)

Capacity(pcs/min)

9000-18000

Motor power(kw)

1.5

Turret speed(r/min)

30

Machine weight(kg)

185

Overall size(mm)

480*490*1100
Notes: The shapes of ZP-5 / 7 / 9 and zp-10 / 11 / 12 are the same.
The number of molds installed on the turntable is different.
If you want to thicken the tablet, you can heighten the turntable. Please contact customer service for
details .